Commissary Kitchen
Shared-use commercial kitchen
520 m2 — 24/7
Our packs of hours
Pricing per table
Benefits of working in a commercial kitchen
The best way to start your business is by focusing on the product and service you will provide. Having access to our commissary kitchen, you'll be able to carry it out with minimum risk.
Create synergies
Reduce risks
Minimum investment
Lower operation costs
Immediate start
Kitchen equipment
Basic kit
— High power gas burners
— Large diameter burners
— Ovens (gastronomy, bakery, mixed steam/low temperature, large capacity)
— GN measures and patisserie.
— Gas grill
— Fryer
— Pasta cooker
— Induction cooker
— Kneaders
— Scales
— Shredders
— Roners
— Pots and pans
— Trolleys and trays GN and 60*40
— Blast chiller
Infrastructure
and safety
520 m2 of professional kitchen
— Cooker hood
— High power electrical connection
— Access to enter pallets
— Cold room
— Washing area and dishwasher
— Support shelves
— Changing rooms and toilets
— Air renewal system
— Fire fighting
— Stainless steel work surfaces
— Cleanable and non-slip antibacterial walls and floors
— Emergency exits
Storage and packaging
24h access and picking
— Equipment and packaging
— Dry storage
— Cold storage
— Frozen storage
— Vacuum and inert gas packaging machines
— Vertical packaging machine for dry product
— Tray packaging machine
Included services
In all contracts
— Access to all equipment
— Cleaning material and products
— Waste and oil management
— Supplies (water, gas, electricity)
— Receipt of merchandise
— Daily cleaning and pest control
— 24h security (CCTV and alarm)
— Optical fibre high-speed wifi
— First aid kit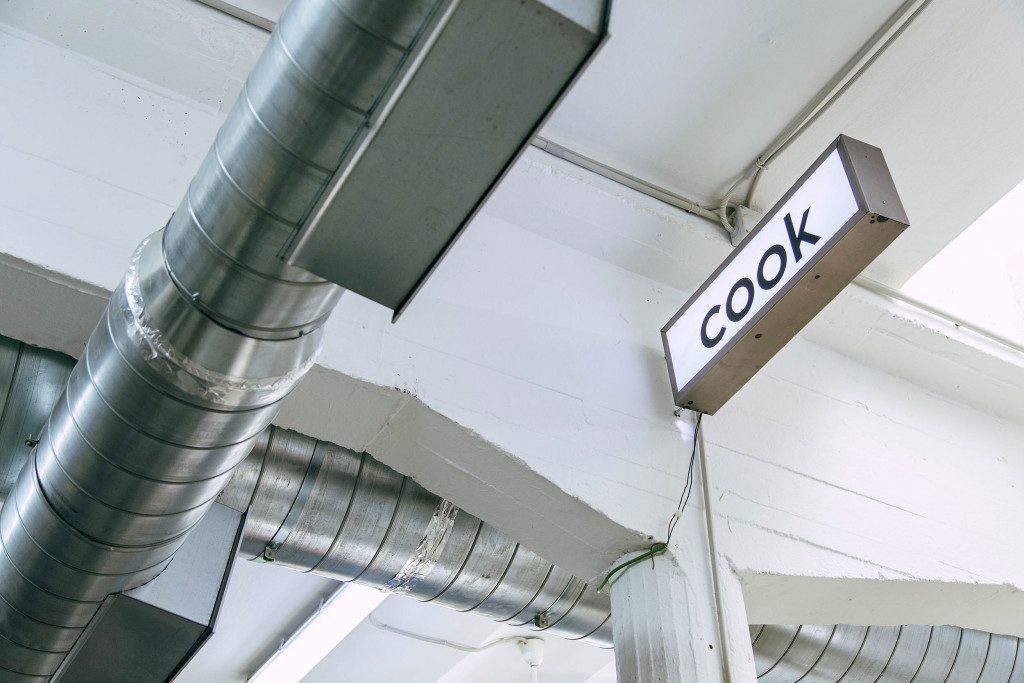 Membership
15€/month
As a member you will have access to special conditions in booking your use of the commissary kitchen. You will also benefit from unique conditions with suppliers, and will be able to count on Coocció as a point of sale for product and delivery.
Preferential access 24/7, 365 days
Access to warehouse
Exclusive offers and discounts
Merchandise dispatch
Coocció as physical and/or virtual point of sale
Take away and delivery from Coocció
Install your own equipment
Promotion and communication on/offline
What do you need to join our commissary kitchen?
Start working from day one (you will only need this):
– Training in food handling.
– Sanitary self-control compliance.
– Civil liability insurance (Recomended).

Our kitchen is designed in compliance with the requirements of food safety, as well as safety and ergonomics at work. Our facilities are certified by the Barcelona Public Health Agency (Agència de Salut Pública de Barcelona).